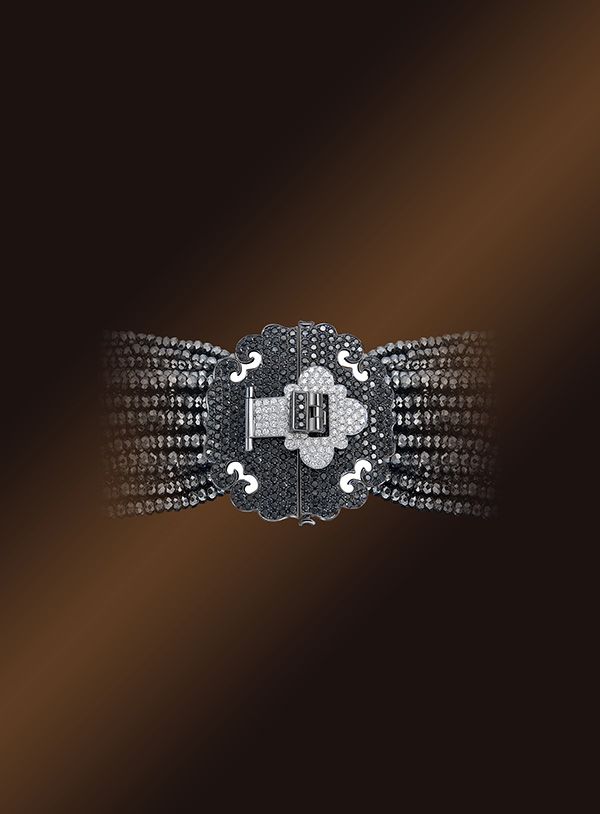 Lock is an auspicious symbol in Chinese culture, wishing for good health and longevity.
In ancient China, due to the high mortality rate, an infant was usually given protective amulets in the shape of locks, in the hope of securing him to his family and providing him a long life. The lock could be made of copper, silver, gold, or jade, depending on the wealth of the household. In Old Beijing, families with newborns sent someone out to beg for copper coins from many households. A longevity lock, called "one hundred lives lock", was then made for the infant from the coins.
YEWN offers a collection of fine jewelry inspired by the shape of Chinese locks, decorated with four simplified patterns of bat. Bat carries a witty hint of blessings since it shares an identical pronunciation with the world "luck" in Mandarin.
Lock of Good Wishes Ring is ornamented with a lock which can fasten one's finger to lock up her good wishes. The Rings are set with rose cut diamonds in 18K white and blackened gold, some are decorated with black diamond, blue sapphires or rubies. The clasp of the Lock of Good Wishes Bracelet is designed to be a functional lock for security, with multi-strands of seed pearls, black diamonds, blue sapphires or ruby beads.
Related Products