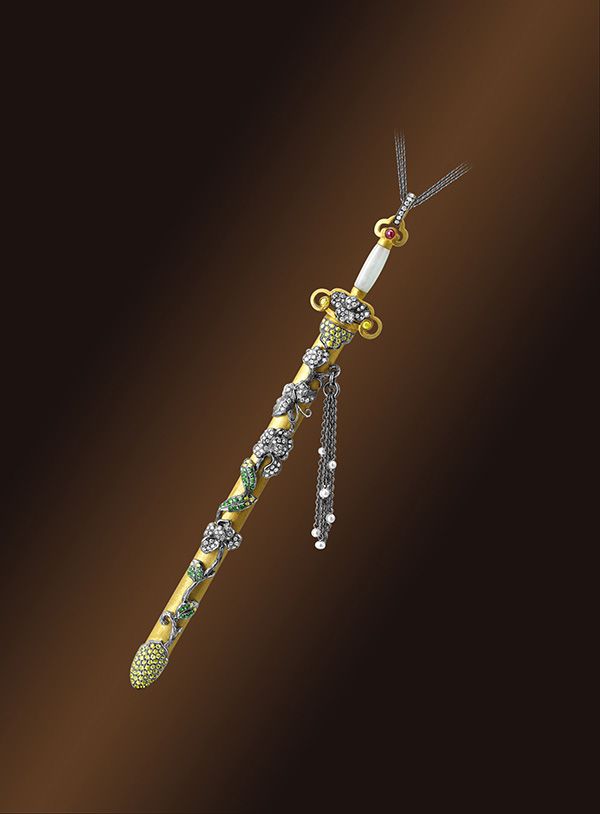 In the Manchu language, "Abkai Wehiyehe" means " Blessed by the Heavens" and was the name of Qing Dynasty emperor Gaozong, whose reign was called Qianlong. Born in 1711 and passing away in 1799, his life spanned much of the Eighteenth century. He ruled for six decades, leading the Qing Dynasty to a pinnacle in both civil and military achievements. Throughout his life, the Qianlong Emperor sought to be "all complete", taking the name " Old Man of All Completion"(十全老人).
The Qianlong Emperor was endowed with great intelligence and an acute longing for antiquity. He learned from childhood the diversity of Manchu, Chinese, Tibetan, and Mongolian cultures. The rich and vast imperial collections at his disposal further helped cultivate a deep understanding of his heritage, and he became one of the greatest collectors in Chinese history. Aside from collecting antiquities, he was also patron of the fine arts and crafts.
In 1748, The Qianlong Emperor commissioned the imperial craftsman to make 90 broadswords and 30 swords. The 90 broadswords were divided into three collections named the Heave(天), the Land (地)and the Human Being(人)respectively.
YEWN's creative director, Dickson's Yewn's interest in Qianlong can be traced back to his early years. Under the influence of his parents, Dickson developed an interest in collecting antiques. At one auction preview, he saw a Qing Dynasty Sword named "No. 17 of Heaven" (天字十七號). Its sharp silhouette and elegant decoration left a deep impression on him. From then on, Dickson has been attracted to the finely crafted imperial amulets and swords owned by Qianlong Emperor.
The intricate, jewelled Qianlong swords and amulets now form YEWN's "Imperial Amulet" collection. Each item of this collection is a limited edition. The collection is made in 18K white and yellow gold, set with jade, rubies, sapphires and other precious stones. The Imperial Amulet collection reveals YEWN's craftsmanship at its peak, illustrating a series of complex skills such as goldsmithing, mosaic setting, jade carving, and more. With his Imperial Amulet collection Dickson Yewn hopes to pay tribute to the great Emperor Qianlong and his reign.
Related Products